Installation and service must be performed by a qualified installer or service agency
Ecotherm MV 112 / 120 / 130
Specifications & Troubleshooting
| | | | |
| --- | --- | --- | --- |
| Model | MV 112 | MV 120 | MV 130 |
| Input Btu/hr. (max.) | 5,600 | 8,400 | 14,000 |
| Output Btu/hr. (max.) | 4,200 | 6,400 | 10,690 |
| Input Btu/hr. (min.) | 2,312 | 3,800 | 6,000 |
| Output Btu/hr. (min.) | 1,734 | 2,890 | 4,286 |
| Manifold Gas Pressure (NAT) | 3.5" W.C. | 3.5" W.C. | 3.5" W.C. |
| Min. Gas Pressure (NAT) | 7.0" W.C. | 7.0" W.C. | 7.0" W.C. |
| Max. Gas Pressure (NAT) | 10.5" W.C. | 10.5" W.C. | 10.5" W.C. |
| Manifold Gas Pressure (LP) | 10.5" W.C. | 10.5" W.C. | 10.5" W.C. |
| Min. Gas Pressure (LP) | 11.0" W.C. | 11.0" W.C. | 11.0" W.C. |
| Max. Gas Pressure (LP) | 13.0" W.C. | 13.0" W.C. | 13.0" W.C. |
| Net Weight | 26 lbs. | 34 lbs. | 46 lbs. |
| Dimensions | 24 3/8" x 15 3/8" x 6 5/8" | 24 3/8" x 21 1/8" x 6 5/8" | 24 3/8" x 27 1/8" x 6 5/8" |
| Direct Vent Flue Size | 3 9/16" | 3 9/16" | 4 3/4" |
| Maximum Wall Thickness | *20" (12" vent kit comes with unit) | *20" (12" vent kit comes with unit) | *20" (12" vent kit comes with unit) |
| Minimum Wall Thickness | 6" | 6" | 6" |
* 12" length vent kit comes with each unit. A 20" inch vent kit is available but will need to be special ordered.
Interior Minimum Clearances: Diagram of interior clearances
Exterior Minimum Clearances:Diagram of exterior clearances
INSTALLATION TIPS
Mount unit to a secure wall. Observe that the included vent kit has both an inner and outer pipe. The 1-3/4" difference in their lengths is required for them to properly seal to the back of the unit, so when cutting be sure to remove the same amount from the inner pipe as you do from the outer pipe.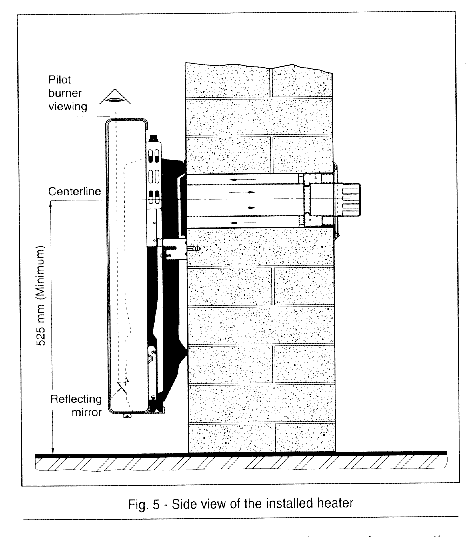 ---
Troubleshooting
PILOT WILL NOT LIGHT
Gas is not turned on, or air is in gas line. Hold down control valve being certain that it is in the pilot position long enough to bleed any air trapped in gas line.
Inadequate gas supply.
Piezo ignitor is not throwing a spark. Look into lower right view window while depressing on piezo ignitor button at top of unit. If no spark is visible check connections of lead wire at piezo ingitor and ceramic electrode.
Pilot orifice is clogged. Cleaning pilot orifice
Excess gas pressure. The gas valve on the heater has an internal appliance regulator within it. This internal regulator will lock up if excess gas pressure is delivered to it, shut off gas supply to unlock internal regulator. See required gas pressures at table above and correct by regulating gas supply properly
PILOT WILL NOT STAY LIT WHEN KNOB IS RELEASED
Once pilot is lit, the gas control knob must be held down long enough to energize the pilot circuit (15-20 seconds).
Pilot flame is small or yellow. The pilot flame can be viewed through the lower right view window while the control knob is depressed. If the flame is small or yellow in color then the pilot orifice should be cleaned. Cleaning pilot orifice
If pilot flame is adequate then the thermocouple should be replaced.
MAIN BURNER WON'T LIGHT
Turn the control knob past the pilot position (counter-clockwise) to a desired temperature setting. If room is already warm dial may need to be turned almost all the way.
Main burner orifice is clogged. Not very likely. Undo the lower right burner tube connection at the brass orifice and then remove the brass orifice to inspect.
Gas control valve is defective.
MAIN BURNER WON'T STAY LIT
It is imperative that the direct vent pipes to the heater be clear. Look into inner and outer vent pipe from the outside with a flashlight.
The direct vent connections are made to the heater upon installation. If installation was recent; first look at rear of heater to confirm that the outer vent pipe seals tightly to the back of unit then remove the heater from the wall and remeasure the length of the inner vent pipe. The inner (smaller diameter) pipe has to protrude 1 3/4" beyond the outer (larger diameter) pipe. This additional length is necessary to make its seal inside the back of the unit. If either of these vent pipes do not make a tight seal then the unit will not operate properly.
Outside vent cap is not mounted flush to exterior wall. The vent cap is designed to allow a proper amount of combustion air in and exhaust flue gases out and does depend on flat surface behind it to do this, if the vent cap extends beyond the exterior outside wall then a support box will need to be constructed. See diagram.
Thermostat bulb or capillary at lower right rear of heater is broken. Replace control.
ROOM WILL NOT MAINTAIN TEMPERATURE
The heater is too small for the space.
Insufficient gas pressure. See required gas pressures in table above.
Excessive air leaks in room.
Thermostat bulb or capillary at lower right rear of heater is broken.
WALL IS TOO HOT OR DISCOLORED
See expected surface temperatures on heater and back wall. Surface temperatures
If the heater is too small for the space it will run for a length of time that may be damaging to the heater and the wall behind it. When this happens the heat exchanger can overheat and any dust or other particulates in the room that are naturally convected around the room and up through the heater may singe and stain the wall behind and above unit. Correct by upgrading to a larger unit, if model is presently a MV112 or MV120, or add an additional unit to room. Correct by upgrading to a larger unit or add a second one.