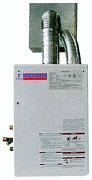 Takagi TKD-20 Direct Vent Tankless Water Heater.
The Newest Direct Vent Water Heater. The TKD-20 has a three-inch round combustible air intake vent and four-inch round exhaust power vent. Takagi Flash TKD-20 is designed to work when indoor combustion air is not available - making it the perfect system for colder climates.

Over 240 gallons per hour. Compact unit vents horizontally or vertically, mounts on a wall or can be installed outside in warmer areas.
Great for running two showers at the same time. Great Thermal Efficiency and more